In Loving Memory of Mario M. Magcalas, M.D.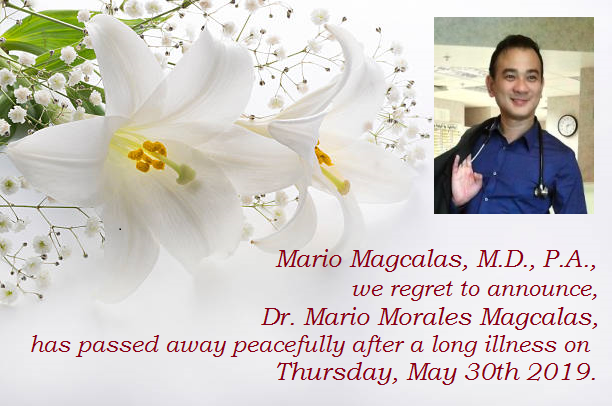 After battling a long illness Mario Magcalas, 56 years old, passed away on May 30th, 2019 at his residence in Davie, Fl. At the time of his passing he was surrounded by his family and close friends.
A memorial service will be held at St. Bonaventure Catholic Church at 1301 SW 136th Ave, Davie, FL 33325 on Saturday, June 22, 2019, 11am.
Mario was born September 2nd, 1962 in Tarlac, Philippines. He graduated Magna Cum Laude at the University of Santo Tomas in 1986 and passed the Philippines Medical Board Examination in 1987, ranking number 11 out of 2800 in the country. Upon arriving in the United States, he continued to persevere despite the challenges he faced arriving in a new country. He completed his Internship and Residency in Internal Medicine from Cook County Hospital, Chicago, Illinois. Upon completion of his internship he pursued his fellowship in Pulmonary Diseases and Critical Care from the University of Texas Southwestern Medical Center in Dallas, Texas. His academic interests included Asthma, Allergies, Pulmonary Hypertension and Sleep Disordered Breathing.
Mario started his first private practice in rural Texas as a requirement to obtain permanent U.S. residency then subsequently moved to Broward County, FL. After arriving in Florida, he once again started his own private practice. Being the workaholic that he was, Mario many times worked selflessly many hours a day including holidays for almost twenty years. His passion was taking care of the very sick and providing critical care to those in need. Dr. Magcalas was board certified in Internal Medicine, Pulmonary Diseases and Critical Care Medicine. He was a Diplomat of the American Board of Internal Medicine since 1992, American Board of Medical Specialties, Pulmonary Diseases since 1994 and Critical Care Medicine since 1995.
Dr. Magcalas has multiples research papers to his credit and has achieved numerous outstanding awards for rendering a variety of services and contributions in his areas of expertise. He was a member of The American Thoracic Society, American College of Chest Physicians, American Society of Internal Medicine and Society of Critical Care Medicine. Dr. Magcalas also contributed to many different causes in the community, including The Philippines Basketball of South Florida and to the local PurpleStride event of the Pancreatic Cancer Action Network, a cause not in his field but very close to his heart.
At the time of his passing Dr. Magcalas was president of his own medical practice, Mario Magcalas M.D., P.A., with a full timed staff of 26 employees. His office specialized in Pulmonary Diseases, Asthma, Allergy, Sleep Disorders, General Internal Medicine and Critical Care Medicine.
In lieu of flowers a donations page has been set up to The Leukemia & Lymphoma Society of Broward County. Please follow the link below for more information.