Meet our Physicians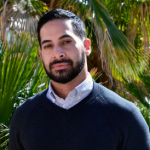 JOSE JOAQUIN NIEVES, M.D.
Dr. Jose Joaquin Nieves
José Joaquin Nieves, M.D. is a Pulmonologist who grew up in Puerto Rico, and where he also completed his Residency and Fellowship training. Dr Nieves is a Diplomat of the American Board of Internal Medicine and he is board certified in Pulmonary Medicine. He specializes in asthma, COPD, pulmonary nodules, pulmonary hypertension, sleep disorders among other diseases and is skilled in a variety of procedures.
Dr Nieves has coauthored in numerous medical publications. He has also practiced medicine as a locums tenens in Iowa, Wisconsin, California, New Mexico and New Hampshire exposing him to work in a wide variety of places and working environments. He is also an active member of multiple associations (American College of Chest Physicians and American Thoracic Society, etc.).
Dr. Nieves has been a physician practicing pulmonary medicine with Mario Magcalas, MD., P.A. since November of 2015 and he brings to our practice over ten years of experience.